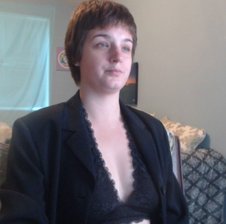 | | |
| --- | --- |
| 性別 | 女性 |
| 興味の対象は | 男性 |
| 年齢 | 25 |
| 身長 | 160 ~ 170 cm |
| 体重 | 70 ~ 80 kg |
| 髪の色 | 黒髪 |
| 目の色 | ブルー |
| 民族 | 白人/西洋人 |
| 言語 | 英語 |
| 陰毛 | つるつる |
| おっぱい | ふつう |
| おしり | ふつう |
Turn-Ons:

1. Submissive and obedient slaves
2. Financial servitude (Findom)
3. Worshiping and adoring my dominant presence
4. Role-playing and exploring power dynamics
5. Tease and denial sessions
6. Bondage and discipline play
7. Sensory deprivation and control
8. Sissy training and feminization
9. Chastity and orgasm control
10. Exploring new fetishes and kinks
Welcome to my world of pleasure and control. I am a Mistress who loves to indulge in the art of Femdom and Findom. Join me in my live stream and let's explore the depths of your desires together. I will guide you through an unforgettable journey of submission and pleasure. Embrace your true submissive nature and surrender to my dominance. My services include private shows and private messages tailored to your submissive desires. In my chat room, you'll worship me , pay tribute , and engage in honest discussions of boundaries. Show your devotion, and I'll reward you with tasks and pleasures beyond your wildest dreams. Are you ready to serve?
Turn-Offs:

1. Disrespectful behavior or disobedience
2. Time-wasters and freeloaders
3. Lack of communication or unwillingness to discuss limits
4. Ignoring safewords or boundaries
5. Arrogance and entitlement
6. Incontency or lack of commitment
7. Poor hygiene and lack of self-care
8. Rude or derogatory language
9. Breaking trust or confidentiality
10. Ignoring consent and boundaries
1
Follow Me On X.com @TreeJeanOnline
Follow Me On X.com @TreeJeanOnline
続きを読む
2
1000 Tokens In A Single Tip
Prepare yourself to experience the intoxicating rush of fulfilling my desires with a single, powerful gesture. Imagine the thrill of clicking that "Send Tip" button, knowing that you've earned a special place in my realm of dominance. With your generous tribute, the possibilities are endless. I'll use these tokens to enhance our online connection and create unforgettable moments that will leave you trembling with desire. Together, we'll delve into the depths of your fantasies and explore the boundaries of pleasure and pain. But remember, this opportunity is exclusively for those who dare to submit fully and embrace the thrilling world of Femdom and Findom. Only the most devoted subs are worthy of this exquisite privilege. So, my loyal subjects, make your move now. Let your devotion be seen and felt as you gift me with 1000 tokens in a single tip on BongaCams. Allow yourself to be consumed by the enchanting power of submission, and let our journey into the realm of pleasure begin. ? #MistressWishlist #FemdomFantasy #FindomPower #UltimateSubmission #BongaCams #FinancialDomination #ServeYourMistress ?
続きを読む